John and Jamie travel across the prairies conducting Horsemanship, Cow Work and Stockmanship, Young Horse Handling and Ranch Roping clinics. The Tilley's also conduct Semi Private Clinics/Camps held at their own facility.
John is a four time judge and demonstrator at Horse 3 in Brandon MB. John has also been invited on two occasions to demonstrate good horsemanship at the Royal Manitoba Winter Fair. A contributor to Canadian Cowboy Country Magazine & Horse Country Magazine.
HORSEMANSHIP 
We offer horsemanship clinics in a inviting atmosphere focused on education and inclusivity,  helping people to better understand what makes their horses operate. We work from the level of the riders and horses and advance as they are ready. We work from the ground up, from everyday important ground work and riding to problem solving.   A typical clinic may start with ground work, working on the hindquarters, moving the front end, getting the horse accepting to the flag, moving freely forward and back on the halter. We take these principles up to the saddle and advance them as the horses and people are ready. 
 Tilley's Horsemanship clinics are a gift. As the other participants will tell you; both you and your horse will come away with treasures to last a lifetime. I have leaned how to analyze what I am doing that is affecting my horse. The lessons translate in the way you handle every encounter and the bonus is that your horse is happier and more responsive. John and Jamie can see what both you and your horse needs to move forward. They work with both you and your horse to get the first steps mastered. Without a solid beginning things could fall apart down the road; so John and Jamie assess and deliver. You become more confident and the camaraderie of the other riders builds your skills and makes new relationships in the horsemanship world. Thanks John and Jamie for helping us all to communicate with our horses.
-Cheri Cowan
SEMI PRIVATE CLINICS/CAMPS
Your summer adventure starts here with a great getaway weekend! Semi private clinics are for folks that are serious about their Horsemanship and Stockmanship! This is an intense clinic experience with an intimate class size for more one on one. Bring one or two horses, and ride for full days. Don't want to ride all day? No problem! Ride as much as you want and then pull up a comfy chair and take in the clinic from there.  Topics we touch on in the semi private clinics are Cow Work, Horsemanship,  Stockmanship, Cutting Flag, Roping, Colt Starting, Halter Breaking, riding out, and special projects. Once the day is through, cozy up to the fire and enjoy a home cooked supper with all the trimmings. A deposit is required to hold your spot. Complimentary electrical hook ups, stalling and suppers on Friday and Saturday evening or the two evenings you are here. Register quickly as these clinics fill fast! Don't have your own accommodations? No problem. Nearby Leroy SK. has new fully furnished suites for rent at very cost effective rates.
FROM THE FENCE- SEMI PRIVATE CLINIC AUDITING EXPERIENCE!
Would you like to participate in a Semi Private Clinic, but are not in a position to attend with a horse? NO PROBLEM! Come and enjoy a Semi Private Clinic with us! Included in this experience is auditing the entire clinic, 3 days of jammed packed education, ask as many questions as you like, camping here and your 2 suppers and evenings  with us!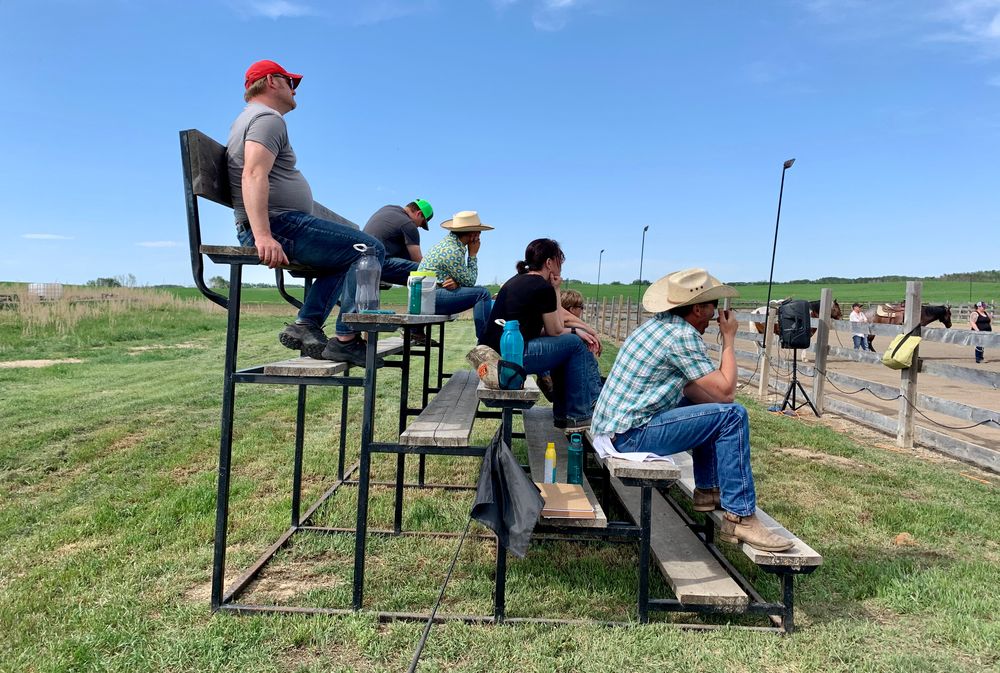 YOUNG HORSE HANDLING
In the Young Horse Handling Clinics we work on halter breaking these youngsters while maintaining the natural lightness and softness that the horse has to offer. Maintaining this lightness in the horse throughout their life is something we feel is really important to strive for. We take a group of colts that are unhandled and in a short time get them confident with the human. Our participants work on correct halter breaking procedures, catching, going through obstacles, picking up feet, trailer loading, etc.  
This year, when I and some co-workers took part in a 3-day intensive Young Horse Handling  Clinic, some key messages hit home for me. Watching John with one horse in particular - a very different / sensitive / reactive colt was stunning – he never once got angry or reactive – just steadier and more subtle. The colt, which many would have judged as too difficult or dangerous (me included), John calmly was able to demonstrate with him his processes – which helped show the spectrum of horses out there and that having patience and keen eye is key. Thank you so much for your patience, knowledge and skill with us and the weanlings! I have since halterbroke four of my own after the clinic and the difference it made was phenomenal. Thank you John and Jamie for your time and sharing everything you know and do with me and us all at my workplace. As we all get to be better horsemen, we make the world a better place for SO many more horses.
-Jocelyn Kish 
COW WORK AND STOCKMANSHIP  
This clinic is best followed by previously participating in a horsemanship clinic. In the event of the class becoming full, preference will be given to those who have previously ridden in a horsemanship class. The goal of the cow working clinic is to help people to better understand how cattle think and operate. Also, to help people understand that without the basic horsemanship maneuvers that we do in the clinics, it can be very difficult to effectively work cattle. This clinic is ideal for those that want to put their horse to work on the ranch or feedlot. It can also be very beneficial for those that want to show their horse. The clinic will typically start off with working cattle together and understanding how they think and operate. As the students and horses get accustomed to the cattle, the students will go on to work some cattle individually.   
"So a few weeks back I participated in the cow work portion of the clinic in Springside. I took a client horse of mine who was stuck and wouldn't move her feet , she had no try. After three days at the clinic she got better at backing and when it came to the cow tracking part ,I could hang my mecate on my horn and she would follow that cow all over. Well today that all paid off as I found a flighty cow with footrot. I eased into my run down, gave him a chance to figure out which one I wanted. Let's just say there was flying lead changes and dirt flying from him turning so hard to stay with her. I was pretty impressed. Even had a rider instructed flying lead change on the way home. Thanks John Jamie Tilley for cruising the country sharing your horsemanship with all who wanna learn".
-Tim Goertzen